A MESSAGE FROM GANDEN's MANAGING Director
GANDEN Engineers and Project Managers is delighted to team with UGL Limited and Alliance Automation on the QUU Southern Treatment Plants Program.
GANDEN has invested heavily in its people, its relationships and its infrastructure to be Queensland's Leading Water Industry Designer. I am extremely proud of the GANDEN team that has successfully delivered designs of upgrades to many water and sewage treatment plants across Australia. Please view some of our recent wastewater treatment plant projects below. There is no other design team in Queensland that has the recent treatment plant design track record and proven capability of the GANDEN team.
GANDEN has an exclusive arrangement with UGL Limited to provide the following for the Program:
• Process Design
• Civil Design
• Mechanical Design
• Hydraulic Design
• 3D / 4D Modelling
• BIM
• Commissioning Assistance
GANDEN received offers from four major contractors to provide exclusive design services. After careful consideration, I decided that a UGL | GANDEN | Alliance Automation team was the best team to deliver the required outcomes for QUU.
My team is keen to continue building on its good relationship with QUU, forged with the successful completion of the Luggage Point and Oxley Creek designs.
We have recenly acquired significant office space close to Green Square Close. GANDEN is happy to offer this space as a shared resource for the Program.
I provide my personal guarantee that GANDEN will provide the resources, personnel, commitment and behaviours expected by QUU, UGL and Alliance Automation to successfully deliver the ECI (including RAMP) and Works Delivery Phases for the entire Program.
With regards,
Darron Nutt
GANDEN Engineers and Project Managers
Managing Director
Relevant Projects (2015 – 2018)
Please click on the images for more information and access to videos.
Grenfell STP Major STP Upgrade
Ballarat South STP Upgrade
Darwin STP Major Upgrade
Mirani WRF Stage 1 Upgrade
Mirani WRF Stage 2 Upgrade
South Lismore STP Major Upgrade
Maroochydore Sludge Thickening Upgrade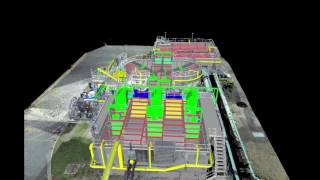 Oxley Creek STP Inlet Works, Grit Removal and Screening Handling Equipment
Luggage Point Dewatering Major Upgrade
Oxley Creek Centrifuge Upgrade
Ravenshoe STP Major Upgrade
Cloncurry Effluent Reuse
Awonga Point MBR Major Nutrient Removal Upgrade
Palm Island STP Major Upgrade
Nambour MBR Plant Major Upgrade
Membrane Maintenance
Membrane Bioreactor Upgrade
Childers STP Major Upgrade
GIN Gin STP Major upgrade
Mirani WRF Stage 1 Upgrade

Project Management, Process, Mechanical and Civil Design and Commissioning Supervision for a new Inlet Works, Odour Control Facility, Service Water and Fire Water Facilities at Mackay Regional Council's 10,000 EP Mirani Water Recycling Facility (WRF) in North Queensland. GANDEN was the process designer, civil designer and commissioning lead. GANDEN also performed the role of Project Manager for the entire project.

Maroochydore Sludge Thickening Upgrade

Membrane Bioreactor Upgrade

Technical Advisory Services for the upgrade of an oxidation ditch to a MBR for a major mining company in Far North Queensland.